About AAMA
"Healing and sobriety are possible for anyone.
The purpose of this introduction is to acquaint the reader with the field of addiction medicine and with Dr. Masters' approach to the care of patients. The diagnosis and treatment of addicts and alcoholics involves a systematic approach, which addresses the biological, psychological, spiritual, familial, and social components of the disease.
The addiction medicine physician is typically involved from the outset in terms of the immediate management of detoxification in either an inpatient or outpatient setting. Following detoxification, the real work of early recovery ensues and the physician continues to monitor the patient's progress and to screen for concurrent illnesses. Some of the services provided include: the counseling of friends and family members on the most effective approaches to intervention; the use of medications to control cravings; the diagnosis and treatment of concurrent disorders such as depression, anxiety, ADHD, or bipolar disorder; the evaluation of progress within a twelve step group; and Suboxone induction and maintenance for opiate addiction.
This website is dedicated to the proposition that "healing and sobriety are possible for anyone" and that "awareness is curative." To that end, Dr. Masters has populated the site with a variety of articles that address the common concerns and misconceptions that confound both patients and family members. The website continues to be a work in progress and the reader is encouraged to re-visit periodically as new material is added.
Dr. Matthew Masters
Dr. Masters is board certified in both Addiction Medicine and Internal Medicine and has been in practice in Austin, Texas since 1990. He graduated from the University of Texas Health Science Center Medical School in Houston in 1987 and completed his residency in Internal Medicine at Brackenridge Hospital here in Austin, Texas. In February of 2008, Dr. Masters obtained privileges at Texas Star Recovery and began his study of Addiction Medicine under the tutelage of Dr. William Loving. During his tenure at Texas Star Recovery, Dr. Masters became an Adjunct Professor at Texas A & M School of Medicine and taught Addiction Medicine to fourth year medical students.
In October of 2012, Dr. Masters entered the full time outpatient practice of Addiction Medicine.
Dr. Masters participated in the "Professional in Residence" program at the Betty Ford Center in Rancho Mirage, California. During this weeklong program Dr. Masters lived with the patients who were undergoing treatment for alcoholism and drug addiction at the Betty Ford Center.
Dr. Masters is a member in good standing in the following organizations: American Academy of Addiction Psychiatry, Texas Medical Association, and the Travis County Medical Association. Dr. Masters is the recipient of the "Volunteer of the Year" award at El Buen Samaritano Episcopal Church for his service to the Hispanic working poor. Dr. Masters was recognized as a "Top Doctor" by Austin Monthly Magazine in January of 2018, 2019, 2020, and 2021. The "Top Doctor" designation is awarded to a physician who has been selected by his peers for this honor. Dr. Masters lectures on the disease of addiction and welcomes invitations to speak.
Treatment Approach
Types of Therapy
12 Step Facilitation
Coaching
Cognitive Behavioral (CBT)
Mindfulness-Based (MBCT)
Modality
Individuals
Couples
Family
Treatments
Specialties
Addiction
Substance Use
Alcohol Use
Issues
Anxiety
Bipolar Disorder
Chronic Relapse
Codependency
Depression
Drug Abuse
Dual Diagnosis
Medical Detox
Trauma and PTSD
Mental Health
Matthew Edward Masters
"Comprehensive outpatient treatment of Opiate Dependence, Alcoholism, and concurrent Psychiatric Disorders."
Austin's Top Doctors
Dr Masters is board certified in Addiction Medicine and is the only Addiction Medicine doctor in Austin, Texas to have been designated a "Top Doctor" 4 years in a row including: 2018, 2019, 2020, and 2021. A "Top Doctor" is selected by their peers.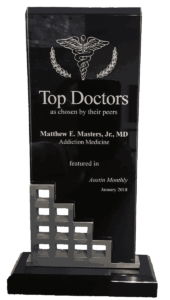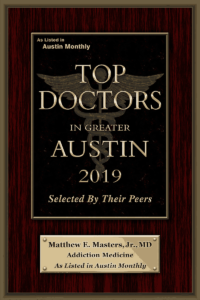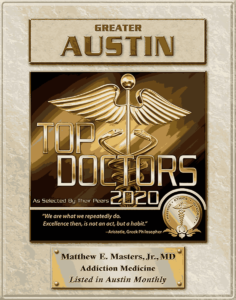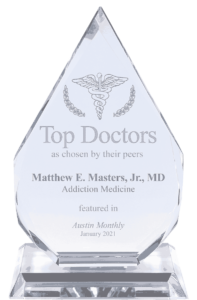 Chat With An Expert.
Contact Matt Masters for a free 15 minute consultation now – 512-810-2079
Experienced Doctor
Dr. Masters is the only Addiction Medicine doctor in Austin, TX to have been awarded "Top Doctor" status (based on the opinion of his peers) 4 years in a row.  Dr. Masters teaches the Addiction Medicine portion of the Psychiatry rotation for Texas A&M School of Medicine in Round Rock, TX;  he has lectured widely on Addiction Medicine Topics; he spent 5 years doing inpatient addiction treatment;  and he was the Medical Director of MARS Methadone Clinic for 6 years.  Dr. Masters' most recent lecture was on "The Diagnosis and Treatment of the Addicted Physician" which he did for the Texas Medical Association and the Travis County Medical Society. 
Medical Student Education
Dr. Masters is actively involved in medical student and resident education in an effort to increase the knowledge base of our younger doctors in this overtly neglected, but extremely important, area of medicine.
A Commitment to Getting it Right
Accurate diagnosis, timely treatment, and effective problem solving.
Testimonials
What Patients Say…
Dr. Masters is an AMAZING physician, and human being in general. He is so kind and will educate you on what steps you need to take to get control of your life. He does not judge you in the least. You can be brutally honest with him, no matter what the issue is. If you aren't serious about changing your life, then he's not right for you. He WILL HELP YOU, but you have to be 100% on board with his program, just be completely honest with him. Thank you Dr. Masters for all your help! What a truly amazing person. I would DEFINITELY recommend him.
.
"Amazing Physician"
S.F
Dr. Masters is a very compassionate person who made me feel more comfortable than any doctor I've ever been to. I was completely honest, and I don't think I have ever been that honest to a doctor, but he made me feel safe. I appreciate this man so much! He has made my life manageable again. Thank you! I'd definitely recommend him! Very smart man!.
"Very Compassionate Person"
Amy L.
Dr Masters has made my life better by helping me stay sober 8 yrs and counting.
"Life is Better"
Mike G.

Best doctor ever, cares about all aspects of my life and has helped me with my addiction in more ways than one. Plus super nice and easy to get along with.
"Best Doctor Ever"
Sue B.

I highly recommend Dr. Masters. He is very knowledgeable in his area of expertise and is a true asset to the Addiction Medicine industry.
"Highly Recommand"
A. Baker

Dr. Masters has been an essential part of my addiction recovery. It took a while to arrive at the right combo and dosage of my meds, but that's the nature of psyche meds. They have often taken some tweaking to get to the right formula for me. Dr. Masters led me through that process with great care to see how I reacted to different ones. He also monitors how I am doing with the core addiction issues. I would recommend him to anyone who is serious about recovery
"Essential Part of My Rcovery"
Ty M.

Frequently Asked Questions
1. What is the fastest way to contact the doctor?
Text me at 512-810-2079.  Dr. Masters' practice is a solo practice.  When you call or text you are dealing directly with the doctor and not ancillary personnel.  Dr. Masters provides high quality personalized care directly to the patient.  No middle men.  Dr. Masters' priorities for communication in the practice are:  the person sitting in front of him;  the text message;  the phone;  Telegraph;  Smoke Signals;  E-Mail.  Please do not send Email to Dr. Masters unless you notify him in advance by text.  Email is not secure and it is non-urgent;  it is not used for real-time communication of patient issues or problems.
2. How much does treatment cost?
The initial evaluation is an hour long and costs $300.00.  Owing to the fact that we are dealing with the addict/alcoholic population (which often has good intentions, but doesn't always follow through) we collect ⅓ of the fee up front.  This provides an incentive for the patient to show up for the scheduled hour.  If they don't show, then they forfeit the prepaid amount.
3. Do you accept insurance?
No, but we will give you a receipt that you can use to submit to your insurance to get reimbursed.
4. How much are follow-up appointments and how often do I have to be seen?
Follow-up appointments are typically ½ hour and are $150.00.  These may occur monthly to begin with, but as the patient heals they are less frequent and may only occur quarterly.  
5. What are the hours of operation?
9 to 5 Monday through Thursday and 9 to Noon on Friday.  
6. What kind of treatments do you provide?
Dr. Masters does an extensive and detailed evaluation of each new patient and comes up with an individualized plan of care.  The key to success is correct diagnosis and timely treatment.  Suboxone maintenance, Alcohol Detoxification, and diagnosis and treatment of concurrent psychiatric conditions are all provided.
7. What is the approach to care?
Diagnosis and treatment of the patient is individualized, comprehensive, and goal directed.  The patient-physician relationship is collaborative and oriented toward the restoration of function.  Addicts or Alcoholics frequently have trouble in one of 6 areas of life:  Romance, Finance, Health, Family, Work, or the Legal System.  Dr. Masters addresses these problems as they arise and provides counseling where necessary.  
8. Adolescents?
No.  All patients must be 18 or above.  
9. Telemedicine?
This is often very convenient for patients who are residing in outlying areas or who have jobs or circumstances that interfere with their ability to get to the office.  Generally speaking, most first time visits are in-person as this is still the best way to get to know someone.
Free 15 Minute Consultation
Contact Matt Masters for a free 15 minute consultation – 512-810-2079