Outpatient Fentanyl Detox​
Austin's Top Doctors
Matthew E. Masters, Jr., MD is board certified in Addiction Medicine and is the only Addiction Medicine doctor in Austin, Texas to have been designated a "Top Doctor" 4 years in a row including: 2018, 2019, 2020, and 2021. A "Top Doctor" is selected by their peers.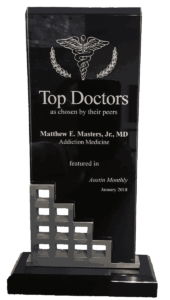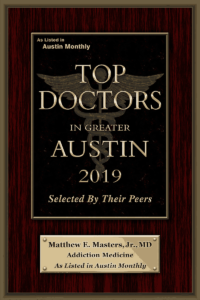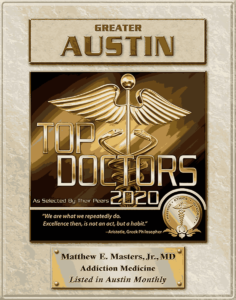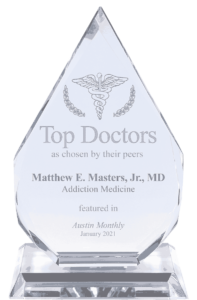 Accurate diagnosis and timely treatment of common psychiatric diseases is crucial to the success of patients attempting to get sober.  All evaluations are performed by Matthew E. Masters, Jr., MD in a comprehensive and systematic manner in order to arrive at the correct diagnosis and treatment.
Opioid Dependence
Overdose is the #1 cause of Accidental Death in America today. Opioids combined with Xanax or Alcohol is the usual cause of death.  In order to intervene in the disease of Opioid Dependence it is necessary to interrupt the cycle of craving, relapse, and withdrawal which imprisons the Heroin or Opioid user in an endless cycle of addiction. Suboxone interrupts the cycle.
Depression
Depression is not a weakness of character, an inability to deal with life, a case of chronic wimphood, or a moral failing.  It is a neurochemical imbalance in your brain that can be triggered by general anesthesia, viral infections (e.g. Covid-19), or stressful life circumstances. The medications used to treat depression are safe, effective, cheap (usually), and well tolerated. Left untreated, depression can cause relapse to your addictive disorder.
Bipolar
This diagnosis is very common in the addict/alcoholic population and it is crucial to treat this appropriately. Bipolar is the most common cause of suicide.  Untreated bipolar individuals have a suicide rate that is 10-30 times that of the normal population.  Long term treatment with medication is usually indicated.
Alcohol Dependence
Detoxification and treatment of Alcoholism are central to Dr. Masters' practice. Individual assessment and referral to inpatient or outpatient treatment programs are standard practice in addition to the use of medications to decrease cravings.  AA is strongly encouraged because it has a good track record and its free.
Anxiety
Many of the anti-depressants used to treat Depression are also effective for anxiety. Dr. Masters tries to avoid the use of Benzodiazepines (aka, Xanax and its relatives) in the addict population because these are drugs of abuse. Dr. Masters will work with you to find the right combination of medication to relieve your angst.
ADHD
Treatment of ADHD must take into account several factors and there is no "One Size Fits All" approach to this diagnosis.  Patients who are not adequately treated for this illness often perform poorly in work or school and they have difficulty learning the cognitive skills to successfully negotiate sobriety.
Testimonials
Read What Patients Say…
Dr. Masters is an AMAZING physician, and human being in general. He is so kind and will educate you on what steps you need to take to get control of your life. He does not judge you in the least. You can be brutally honest with him, no matter what the issue is. If you aren't serious about changing your life, then he's not right for you. He WILL HELP YOU, but you have to be 100% on board with his program, just be completely honest with him. Thank you Dr. Masters for all your help! What a truly amazing person. I would DEFINITELY recommend him.
.
"Amazing Physician"
S.F
Dr. Masters is a very compassionate person who made me feel more comfortable than any doctor I've ever been to. I was completely honest, and I don't think I have ever been that honest to a doctor, but he made me feel safe. I appreciate this man so much! He has made my life manageable again. Thank you! I'd definitely recommend him! Very smart man!.
"Very Compassionate Person"
Amy L.
Dr Masters has made my life better by helping me stay sober 8 yrs and counting.
"Life is Better"
Mike G.

Best doctor ever, cares about all aspects of my life and has helped me with my addiction in more ways than one. Plus super nice and easy to get along with.
"Best Doctor Ever"
Sue B.

I highly recommend Dr. Masters. He is very knowledgeable in his area of expertise and is a true asset to the Addiction Medicine industry.
"Highly Recommand"
A. Baker

Dr. Masters has been an essential part of my addiction recovery. It took a while to arrive at the right combo and dosage of my meds, but that's the nature of psyche meds. They have often taken some tweaking to get to the right formula for me. Dr. Masters led me through that process with great care to see how I reacted to different ones. He also monitors how I am doing with the core addiction issues. I would recommend him to anyone who is serious about recovery
"Essential Part of My Rcovery"
Ty M.

"The Above Photo(s) are not Actual Patients."
Chat With An Expert.
Contact Matthew E. Masters, Jr., MD for a free 15 minute consultation now – 512-810-2079
Experienced Doctor
Matthew E. Masters, Jr., MD is the only Addiction Medicine doctor in Austin, TX to have been awarded "Top Doctor" status (based on the opinion of his peers) 4 years in a row.  Matthew E. Masters, Jr., MD teaches the Addiction Medicine portion of the Psychiatry rotation for Texas A&M School of Medicine in Round Rock, TX;  he has lectured widely on Addiction Medicine Topics; he spent 5 years doing inpatient addiction treatment;  and he was the Medical Director of MARS Methadone Clinic for 6 years.  Dr. Masters' most recent lecture was on "The Diagnosis and Treatment of the Addicted Physician" which he did for the Texas Medical Association and the Travis County Medical Society. 
Medical Student Education
Matthew E. Masters, Jr., MD is actively involved in medical student and resident education in an effort to increase the knowledge base of our younger doctors in this overtly neglected, but extremely important, area of medicine.
A Commitment to Getting it Right
Accurate diagnosis, timely treatment, and effective problem solving.
 Marijuana Dependence Are You Addicted? Weed Addiction: Increasingly potent forms of Marijuana are on the market now and THEY ARE NOT BENIGN!!! Dr. Masters discusses the risks associated with pot including: development or worsening of depression, anxiety or panic...
read more
From 1963 to 1975 we lost 58,000 men in Vietnam. In 2016 alone, we lost 64,070 to drug overdose. The current epidemic of drug overdose is literally "A Vietnam Every Year in the United States." The most common cause of accidental overdose is a combination of opioids...
read more
The disease of alcoholism and addiction affects the family on several different levels. The addict or alcoholic is affected with a life limiting and potentially life-threatening illness which is guaranteed to rob him of his dignity, material possessions, and personal...
read more
The purpose of this essay is to acquaint the reader with the "elephant in the living room", i.e., the disease of addiction. Addiction, or its secondary manifestations, represents the most common cause of suffering and death in this country today. This idea, however,...
read more